Search and Order Parts:
Currency
Cart ()
Welcome to the British Spares Library
"Good friends, good books, and a sleepy conscience: this is the ideal life" - Mark TwainThe library at British Spares is one of the best places to get started on your classic restoration project.
You've just bought a frame, wheels, and 3 big boxes of bits containing a 'dead original 1959 NorBumph
Thumandville', what now...? A copy of the correct factory parts catalogue will show you pictures of every-
thing that isn't there, and the order in which it should be assembled... Now you're getting somewhere.
A restoration guide is a great way to learn a lot more about how things should be done, and a workshop
manual gets you right down to the nitty gritty of getting things back up and working again.
Just need some great classic motorcycle reading as a gift for Great Aunty Mabel...?
We've got you covered there too.
BSA Parts Catalogs
A parts catalog removes the guesswork when ordering parts. Also invaluable when discovering what is there, and in what order it should be assembled. Being clear about what parts you need by using the original factory part numbers leaves much less room for getting it wrong...


Norton Parts Catalogs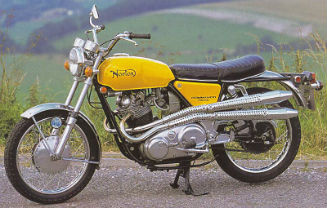 Triumph Parts Catalogs
...British Spares stock a large range of factory parts catalogs from the late 1940's to the 1980's.
Yes, there are online versions available too, but there is nothing like holding a book in you hands when sorting out the parts you need. Our professionally made, coil bound copies open fully flat on the bench so you don't lose your place when delving in deeper...


Workshop Manuals and Technical Books
We stock factory workshop manuals for most Norton, Triumph and BSA models of the 1950's, '60's, '70's, and '80's. We also have Haynes manuals available and some manuals for other brands. Owners manuals are available for a number of makes and models too. Restoration guides and specific model feature books are also stocked.
Reading for the Motorcycle Minded
Classic Era Biographies and Narratives, books on riding, trips, funny stories, and cartoons. There's lots of fun reading here, even if you don't have the bike bug yet.